Been hearing more and more about conversational marketing lately? Well, we hate to break it to you but conversational marketing is not new! People have been using conversations to drive sales and ensure customers are satisfied since humans first began trading. As it's the most natural way for humans to interact, conversational marketing has recently exploded in popularity due to automation advances in technology and shifts in consumer behaviour.
Conversational marketing practices utilise automated technology at scale by allowing businesses to interact in a one-to-one fashion via live chat software, and it may be one of the most powerful marketing tools at your disposal in 2019.
48% of consumers would rather connect with a company via live chat than any other mean of contact. (HubSpot, 2017)
At digitalstream, we believe that conversations are integral to marketing, especially as modern customers expect conversations to happen how, when and where they want it. Live chat is going to increasingly become integrated into businesses digital strategies as it enables departments like customer support, sales and marketing to apply artificial intelligence to their daily tasks and decisions. Therefore, it's important your business makes a good impression and connection the first time a prospect visits your website and using one-to-one conversational messaging through live chat software is a great way to achieve that.
We have seen a huge shift from the non-personalised mass marketing that social media platforms have popularized over the past decade, and noticed that conversational marketing is becoming a core part of commerce as it thrives off being customer-driven. Businesses now have the opportunity to heighten their customers experience by removing hurdles of using websites and apps and starting personal dialogue with visitors rather than blasting promotional messages and forcing consumers to take action.
Did you know that for the first time ever, messaging apps are now 20% more popular than social media networks in terms of monthly active users.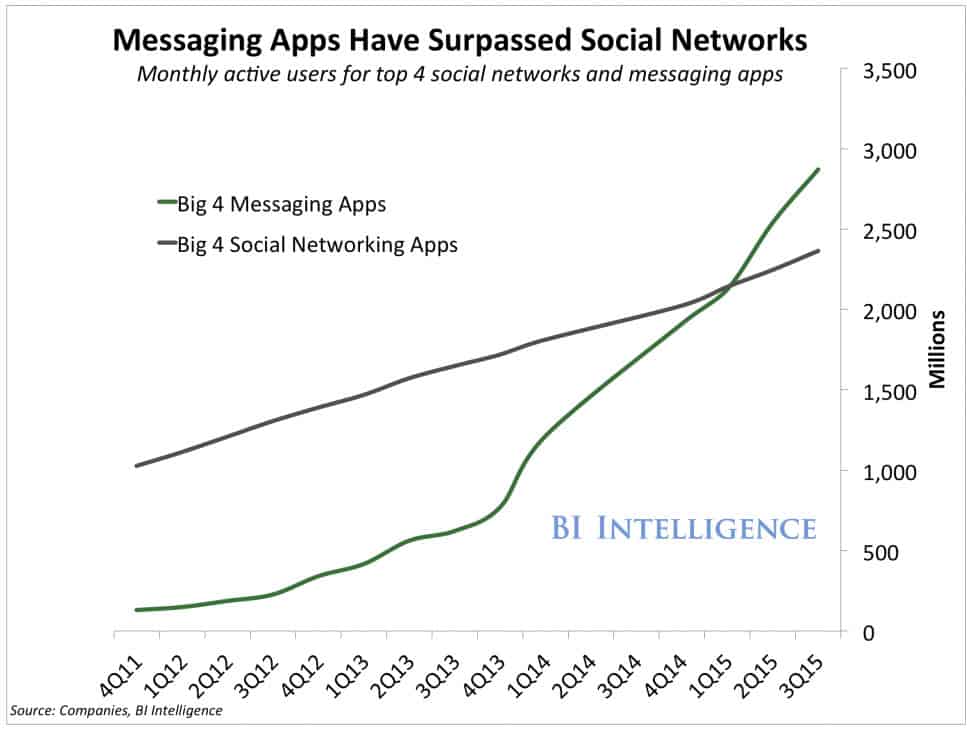 This is enabling businesses to easily use conversational marketing practices through online live chat. Here you're able to efficiently answer people's questions, listen to their feedback and uncover new ways to help them in an instantaneous fashion, all while breaking the barriers between support, sales and marketing. The act of engaging with prospects, leads, fans and customers through a chat platform shows consumers you have excellent communication skills, even if it's just to simply offer an automatic greeting or to let visitors know you're currently not around, but if they leave a message you'll get back to them within a certain time frame.
As chatbots are conversational in nature, it's like having a text message thread with a close friend.
Chat bots give businesses the ability to communicate with each of their customers in a private, personalized and two-way environment.
According to OctaneAI, stores using conversational commerce are increasing annual revenue by 7 – 25%.
Think about how you commonly communicate with your friends or family member, our first inclination is often to text them right? This should be the same for businesses, by using conversational marketing through chat bots you're allowing continuous communication and the opportunity to cross-sell and encourage sharing. A great chatbot that has individual and personalized messaging also increases the likelihood to convert customers. You have the opportunity to show off your brand personality and add flair through cool gifs, images, stickers, files and videos to increase engagement rates while educating clients, generating leads and boosting sales.
According to HubSpot statistics, 59% of people believe that customer service through social media has made it easier to get their questions answered and issues resolved, 55% of people are more likely to shop with a business having a message interaction while businesses who nurture leads make 50% more sales at a cost 33% less than non-nurtured prospects.
Live chat enables you to establish strong relationships with your customers by automating on-site chat while interacting in real-time to minimise customer wait times and proactively handle customer service queries. It's also an excellent way to improve the customer's experience by ensuring quick response times through instant messaging, ensuring leads always stay connected and engaged after initial contact is made due to an interactive and immediate response. As a busy business owner, you can also be selective in your availability and even have alerts sent to your phone or mobile device through an app, so you don't need to be fixed at your computer to reply to any questions.
Additionally, chat bot software can significantly reduce your operational costs by automating on-site chat without the need for expensive operator staffing while streamlined customer communications can reduce the number of incoming calls to your contact centre. With the 24/7 nature of the internet, an increasing number of customers expect companies to accommodate their schedules and deliver 24/7 customer service, chatbots handle this by allowing an unlimited amount of interactions simultaneously.
A quality chatbot often costs less than the annual salary of a single employee.
Let me ask you a question, would you ignore a customer who walks into your workplace? No! So why ignore them when they land on your website? As marketers we understand how complex the traditional customer journey is, spanning multiple channels and touchpoints with up to seven phases from awareness, consideration and use to advocacy. As a result, we've noticed that the buying experience has become cold and impersonal!
Wouldn't you like to reduce the number of steps your lead has to take to complete an action?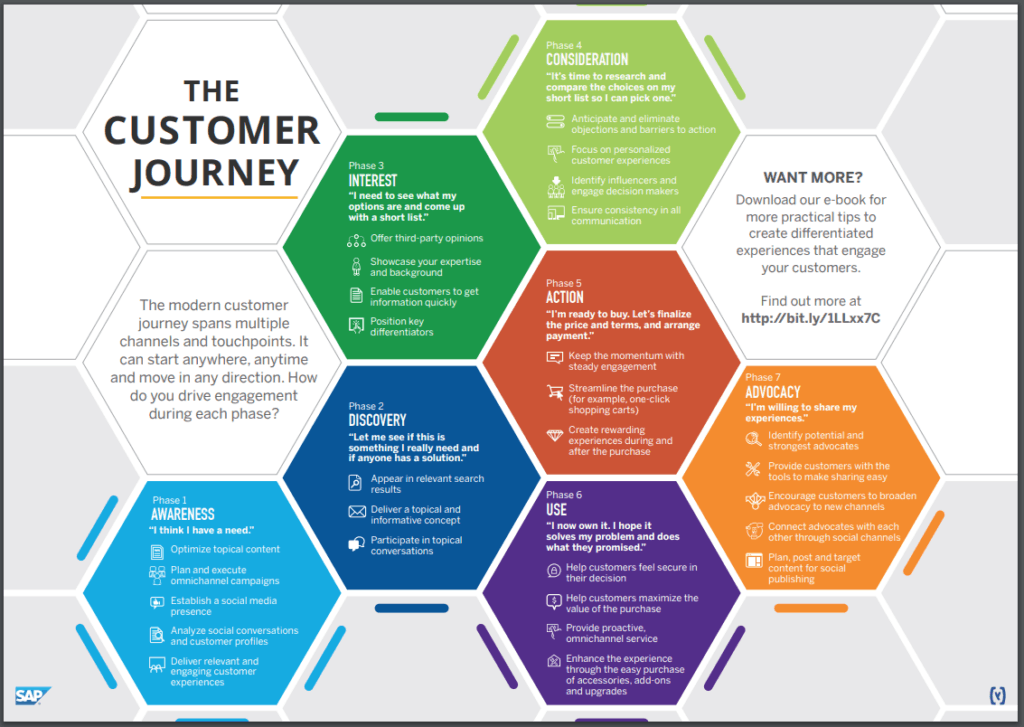 When engaging customers in commerce, email marketing has conventionally been used to bring people back to the website or app, build rapport and create engagement. However, email takes a long time to nurture leads and because everyone is doing it consumers are tuning it out and this certainly shows in the declining opening rates! Despite this, there are similarities between email and live chat. Chatbots are essentially an inbound marketing tool, except you're using conversational marketing to create value where your target customer is spending their time.
You're often needing to send your visitors to a landing page for them to do anything, such as sign up for a newsletter or fill out a form. This is time-consuming for our busy clients and causes the customer journey to end prematurely. Live chat simplifies that process by removing complex parts of that journey, by engaging prospects in real-time you're helping visitors make critical buying decisions that move them more efficiently down the path to purchase. Imagine your customers engaging in a two-way conversation and becoming qualified by filling out your forms right on the chat! Because you've eliminated the wait times for follow-ups, you can then nurture your relationships by picking up right where you left off when you later meet that customer in person.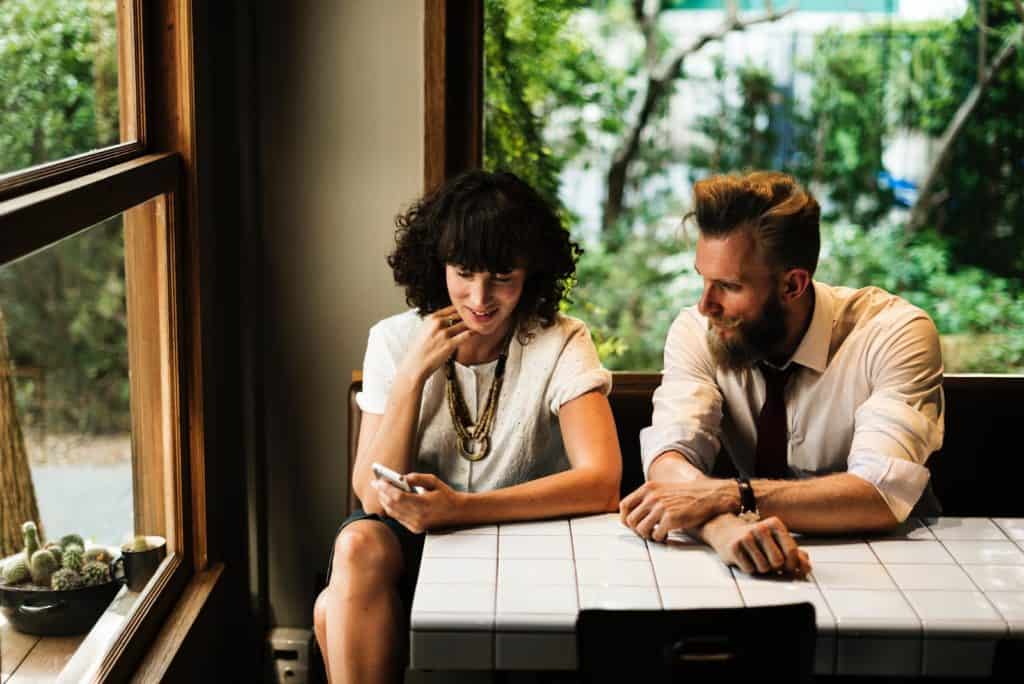 In short, we love online chat and conversational marketing because it combines elements from many advertising and marketing formats including phone, email, PPC and direct mail. All the things that we've always been doing just developed in new ways!
Are you ready to adopt conversational commerce and thrive? For more information about making live chat part of your next digital marketing plan and how we can incorporate this into our service packages, contact us today. 
Connect with @digitalstream on hello@digitalstream.co.nz