Designing a new website for organisations steeped in tradition takes a lot of care and thought. On one hand, it's important to appear relevant to today's audiences, but at the same time, you need to stay true to your values. How do you honour traditions and appear current at the same time? This is where good design is essential.
The right design should be modern while reflecting values and traditions. Vibrant imagery that your audience can relate to plays a part in your site's design, as does your logo.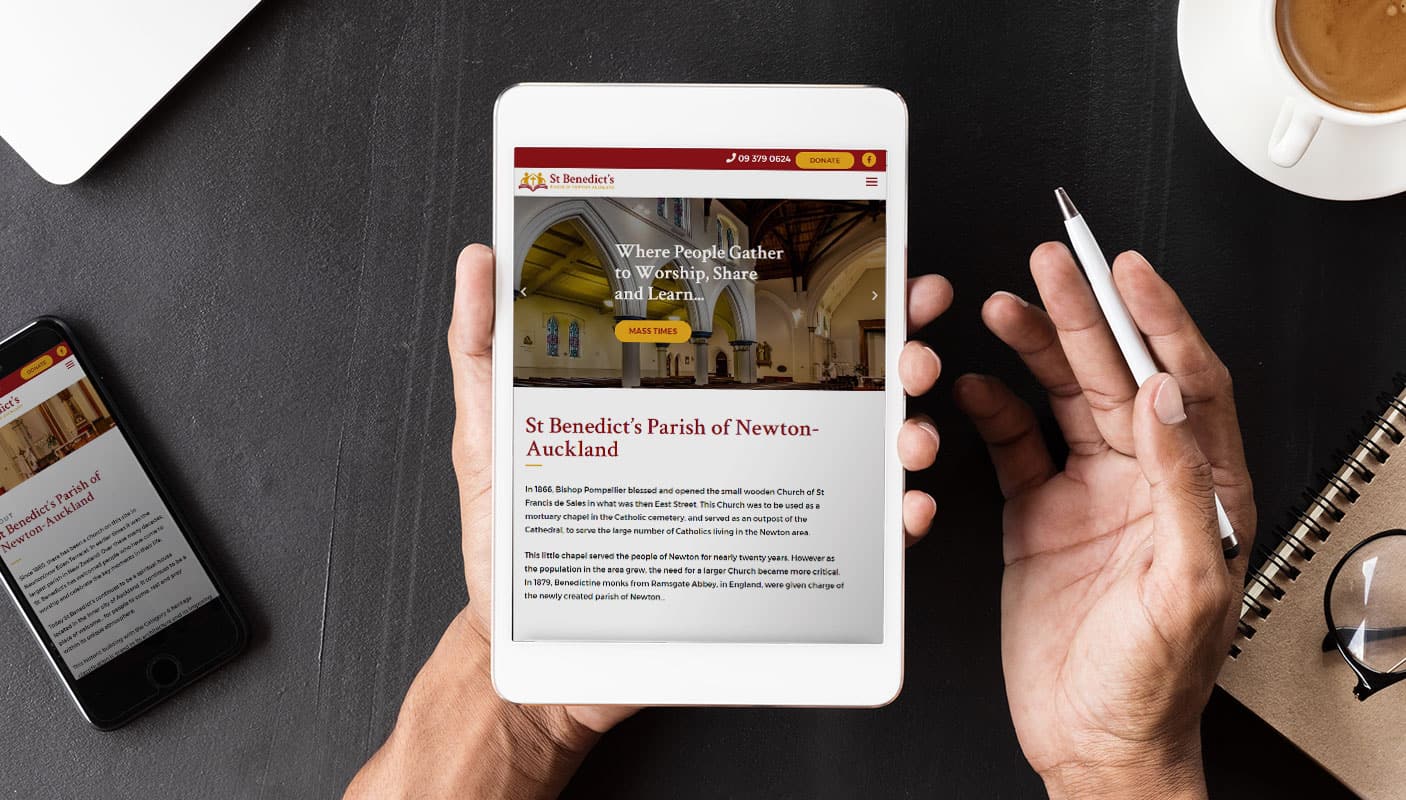 Client:
St Benedict's Church
Services:
Consultation, Digital Strategy, Web Design, Custom Web Development, SEO, Project Management and logo
See how the logo for St Benedicts symbolises inclusiveness and faith: two people reach out to one another, supported by the bible which is the foundation for their religion. At the heart of the people is the cross of Christ, which unites them.
In addition to this, you'll want to ensure your site has modern functionality. In this case, the latest news and events are clearly posted, and links to Facebook are visible. Visitors are able to make donations and bookings easily online.
Which brings us to our next point; encouraging donations. Allowing online bookings for weddings, baptisms and room hire was a feature digitalstream team suggested to St Benedict's. St Benedicts is a large, historic church, and so the cost of upkeep is quite considerable.
Promoting venue hire as a service, and making it easy for visitors to book online, was one way to help cover expenses. All charities have expenses and are reliant on donations. Good web design promotes the services and values the charity provides and makes it easy for them to generate income.
Push Pay
A key feature St Benedict's wanted digitalstream to integrate into their website was an app that promotes digital giving and donations for churches. We managed this process for them, setting them up with apps on both Apple and Google.
For ideas on how we can help grow your donations online, call on 0800 344482 or send us an email on hello@digitalstream.co.nz
We have structured our portfolio to inspire and help you gather ideas of our different businesses styles and recent works.